The Best Youth Lacrosse Shoulder Pads – Get Info, Get Protected
If you are starting out, you want to make sure you have The BEST Youth Lacrosse Shoulder Pads.  
You don't want to waste money.
You don't want to buy a low quality set of pads.
For those new to the sport, this article is for you. I am looking to make that first gear buying process easier on you.
Picking out the right gear when you are starting out is really difficult.
You don't want to spend too much money, you won't to make sure you are buying a brand you can trust, and you want the gear to do the job!
Shoulder pads are a crucial part to the game! All players need to feel protected on the field for the sake of safety, and continuing to play the game for a long time.
Here's how things are going to look:
I will give you my recommendations for the "Best Youth Lacrosse Shoulder Pads"
I will give you a few other options, options that I consider quality "Runners-Up" to the #1 spot.
Maybe you are wanting to check out our youth helmet reviews? Have a look here.
Each set of pads will be partnered by a full-detail review, consisting of all the information I could gather about each piece of gear.
Here's how the reviews for each of the shoulder pads will look:
Manufacturer Hype – This section will detail all the specs (special features, materials, etc.)  that go along with the particular pads. I call it "hype" because sometimes it is only hype from the makers to get people buying their products! I want you to be a skeptical buyer, so you end up getting a high quality piece of gear.
Available Sizes – 
What Players are Saying About these Pads – I find this information to be the most valuable. There is no one else I would rather get the "low-down" on a piece of gear from, than a player who has used the pads themselves!
Overall Value – Finally, I'll hit you with a dollar amount, and a final sort of "value statement" towards what overall feeling I have towards the pads.
Alright, let's get into it!
The Best Youth Lacrosse Shoulder Pads: 

Manufacturer Hype:
VPS (Vented Protection System) Sternum Technology –
This Vented Protection System, beefs up the coverage over the sternum, exactly what you need for the youth/early high school levels of
play, while as well keeping you cool.
Injection Molded Shoulder Caps –  
The injection molded caps give you great flexibility in the shoulder, while as well having very reliable protection.
Collapsible Shoulder Cap System –
This will keep your shoulder movement natural and free-flowing.  
These Pads Will 'Do the Job' –
Plain and simple, you will get what you need out of these pads. That being a decent enough level of playability or motion with them, and of course, sufficient protection. 
Comfortable, Pleasant Fit –  
The fit on these pads seems to be exactly what a beginner player needs. The pads are not too bulky, they don't restrict play, but they give the protection needed.
These pads won't weigh you down! Players are saying they barely notice they are wearing these pads during play.
Easily Adjustable, Find Your Perfect Fit – 
These pads are easily adjusted. That means it will be easy to find the fit that best suits your play.
Simply put, if you need a pair of shoulder pads for the beginning player, you can't really go wrong with this set of Warrior Adrenaline pads.
They will give you sufficient protection, won't be too bulky and will last long enough to be passed onto the next 'new laxer' you have.
These pads have reviewed extremely well, which is hugely important for buying gear when you are starting out. Plain and simple, you know these pads will give your new player what they need on the field!
That's why the Warrior Adrenaline pads are holding my #1 spot, as the "Best Youth Lacrosse Pads." 
The "Runners-Up" to the Best Youth Lacrosse Shoulder Pads: 
Manufacturer Hype:
Internal Plate System in High-Impact Zones – 
Brine supplied extra support, with tis internal plate system, in very specific zones that you most commonly will pick up hits at.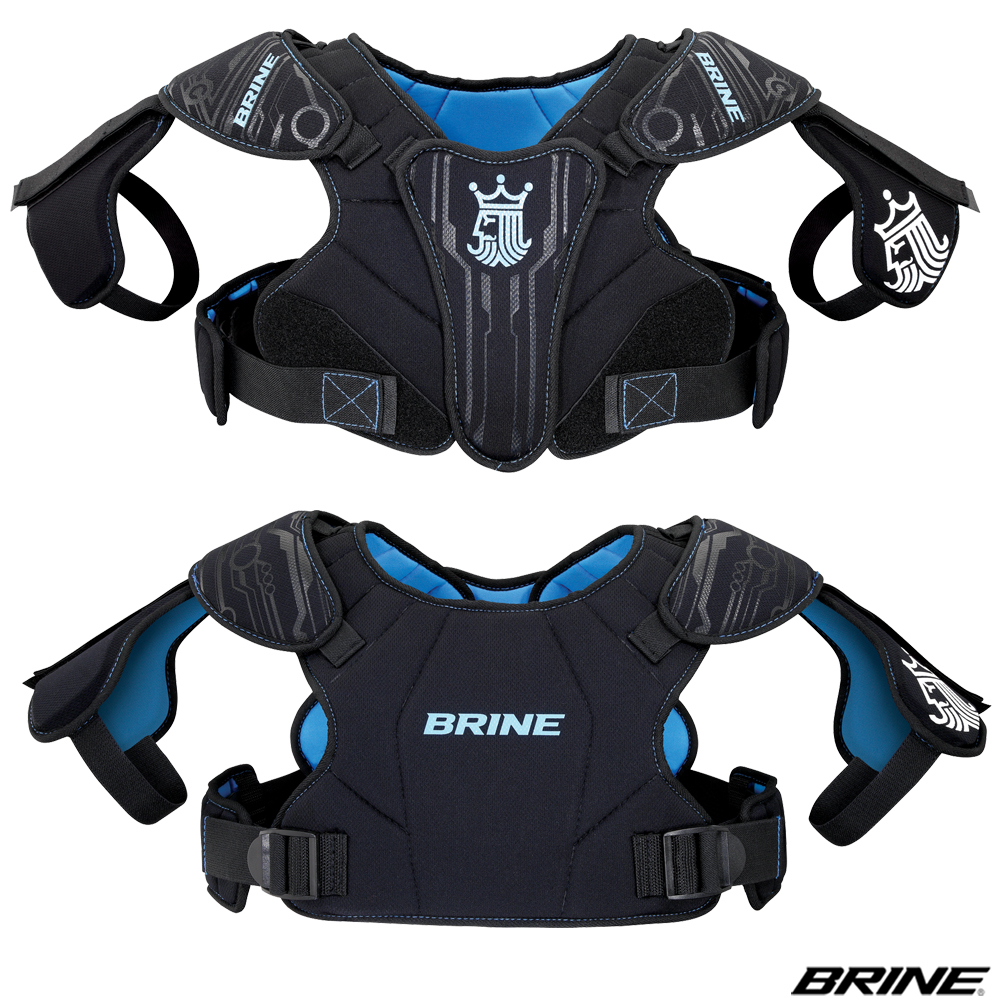 Dual Density Protection –
With dual density protection, these pads have an increased level of protection, as well as comfort.
Revamped and Resized Bib Structure – 
The new bib structure features multiple breaks for both a better fit and overall function.
The raised sternum plate adds extra protection in the critical spot of the sternum. This also will help with ventilation.
These pads come with a bicep pad which some players like, and others don't. Luckily if that style does not fit you, you can easily remove the pad.
Added Rib Protection on Each Rib Strap –
With the added rib protection on the straps, you will be saved from a few extra slashes to your sides.

Perfect for the Beginner Player – 
These pads are made for the beginner player, and they seem to do the job just fine. Enough protection and range of motion to where these pads would do exactly what you need as a beginning player.
The Brine Uprising II pads are perfect for the beginning level player. They give you protection and will not restrict your play enough to bother you. That's all you need out of your pads starting out.
As well, these are CHEAP! Lacrosse is an expensive sport starting out, it might be a good idea to pick these Brine pads up if you are not trying to break the bank.
Manufacturer Hype:
Redesigned Chest and Back Padding for Max Protection of Upper Torso –
With the redesign in the chest and back padding, you will have a greater level of protection in your upper body. This is extremely valuable to have.
Adjustable Torso Straps –
With the adjustable torso straps, you will be able to adjust the fit of the pads to your liking.
Adjustable/Removable Hard Plastic Shoulder Caps –
The hard plastic caps are designed to up your level of protection, but if you don't seem to like them, they can be adjusted, or as well removed.
Additional Elevated Chest Plate –
The elevated chest plate ups your sternum protection while a
s well promoting good airflow through the pads.
Strategic Reinforcement of Chest Area – 
Intended to provide extra sternum protection. As you can see from the various features, STX made chest protection a large focus.
This is another feature that will improve your ventilation levels. These pads will keep you cool in-game.
Designed Inspired by Kyle Harrison –
Can't hurt that these pads were designed with close help from pro Kyle Harrison right?
What Players Say About These STX K18 Pads:
Something to be cautious about, one review I filed through said that the K18 line has "taken a step down" from previous models. However, this player was of an advanced level, and continued on to say that these pads were "perfect for the beginner player."
Great for Entry Level Players –
Some higher level players who have used the K18s before said they are made more for the entry level player.
It was hard to dig up a lot of quality feedback for you all on these pads.
Here's a little more information however, via some video with Kyle Harrison talking about his pads…
These pads are advertised to be for the "competitive" player, but from the reviews that I saw, they seemed to be more appropriate for beginners.
That being said, that's why I listed these STX K18 padsas a quality set on our youth lacrosse pads list.
As a player starting out at the sport, I don't see why these pads would not serve you well, I think my only drawback is the price for a "youth set" of pads.
Manufacturer Hype:
Raised Chest Plate for Added Protection –
Similar to the other sets of pads, the raised chest plate gives you additional sternum protection.
First Lacrosse Cardiac Silhouette Coverage – 
STX placed an extra focus on the support on your chest, exactly what you need!
Printed ID Label –
Intended to help you keep track of your pads.
Pre-Formed Contoured Chest and Back Panels –
These panels will give you a very comfortable fit. The more you play in these pads, the more they adjust to your body.
Hard Plastic Shoulder Caps for High-Impact Coverage –
The hard plastic shoulder caps will brace you for harder hits at the shoulders with no problem.
No Current Customer Feedback Available – 
I feel as if the STX Stallion 100 pads are another quality set of lacrosse pads. However, the lacking player feedback is why these pads are not a bit higher on our list.
If you are an entry level lacrosse player, I don't see STX doing you wrong here. There is not any other previous player feedback on these, but STX seems to put together some high quality protection. 
 Closing:
That's all I have for you! That's my list of the "Best Youth Lacrosse Shoulder Pads." 
If you have any issues, comments, or further questions, please reach out and shoot me an email, hit @1StopLax up on twitter, or leave some text in a comment box below!